Empowering Organisation through technology to deliver better healthcare services.
Enabling Health care professional and organizations to re-invent and optimise their digital capabilities to address patient needs in a better, efficient and collaborative way, while complying to all health care standards.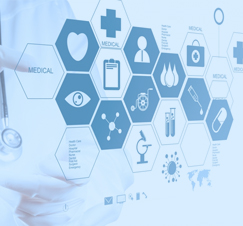 Fitness Apps
To track activities, weight, exercise, diabetes, readings and sleep patterns etc integrated with medical hardware and other wearable technology.
HealthCare Information Exchange
Integrating the different stakeholders involved in a patient's health decision on a stable, secure and common platform promoting collaboration and allowing effective interaction.
Hospital and Practice Management Solutions
Custom HIS Solutions for managing resource scheduling, patient-physician interaction, patient registration, custom reporting etc.

Telemedicine Solutions
Mobile apps and web portals that facilitate exchange of data between clinician and patients at home to assist in monitoring and diagnosis.
EHR/EMR Solutions
Custom electronic health record software for recording demographic information, optimising workflows, patient vitals, evaluation and management, chief complaint charting etc.
Product Engineering
Assisting healthcare business to convert tech strategies into innovative digital products which offers enhanced care at reduced rates.
Process Automation
Automating templatized processes to expedite delivery of healthcare services, boost productivity and optimize return of investments.
Team Augmentation
A flexible and scalable model that lets you focus on patient care while we help to augment technical expertise in software product development.